When water cries - Sɛ nsuo su a
By Fibi and Amelie
"When water cries" is a collaborative project between the photographers Fibi Afloe and Amelie Koerbs examining the connection between nature and humans, as well as their effect on communities along the Black and White River in the Gonja Kingdom, Ghana. The project displays an interplay between human actions, climate change, and other environmental issues - and the resulting effects. It starts to question: Who should be held responsible when humans and nature struggle?


The Gonja Kingdom is in the Northern part of Ghana and is naturally bordered by the Black and White Volta. For many years humans have benefited from these water bodies by constructing dams that produce electricity and supply water for irrigation. These dams include: Akosombo Dam enclosing the Volta Lake in the Eastern Region of Ghana (constructed 1963), the Bagré Dam on the White Volta in Burkina Faso (constructed 1994), and the Bui Dam along the Black Volta in Ghana's Brong-Ahafo region (constructed 2013). These dams, though economically productive, also form a massive interference with nature and threaten the livelihoods of many people living along the Black and White Volta River.


"When water cries" is not only a story about water being hurt. It is about us not treating water fairly, it is about us not respecting water and it is about us losing our best chance to preserve our very own. Water is our mirror; it reflects whatever it is shown. This project is to remind ourselves that if we harm water, we harm ourselves. It is a reminder, that it is in our best interest to start listening to water, because then we would know that water can no longer bear all these pains and that our chances of survival are shrinking. If we start listening to water, we will hear it cry for us because it knows what is coming.
Abubakar started his work with cattle in 1993 back in Nigeria. It's the same work which brought him to Buipe, Ghana. Abubakar is a Fulani, working with cattle is something that comes natural in his family as his father and grandfather worked in that business as well. This year the cattle market in Buipe was partially flooded, reducing the space to sell the cows and making it dangerous for herders to move between the cows as they buy and sell. The flooding is now slowly receding.
The chief of Buipe, the "Buipewura", is welcoming of the Fulanis and includes them in decision-making concerning the community. Being welcomed like this is not usual in other countries, where Fulanis sometimes get kidnapped and killed. Abubakar feels at peace in Buipe. He lives there with his wife and six children.
Danku Clinton has lived with his wife and child right next to the Buipe bridge for the past 3 years. He is 20 years old and works in the cattle business. This year the water has entered his room. He now lives with his wife and child at his father's place until they can move back. At the time we met him the water surrounded his house. He used a wooden ladder and cement blocks to get into his room. It's not the first time he has been affected by the water, in 2010 his parent's house was flooded, forcing them to temporarily move to their home village Mpaha.
Jamila's house is now only about 10m away from the water, which has been moving closer for the past 2 months. She's been living in Buipe with her family for the past 4 years. Because they couldn't afford the rent in their previous home, they had to move onto their land close to the water. There they built a mud house. They would prefer a cement house but currently it is too expensive for them. Jamila prays to God that the water won't get to their house, it's because of her faith that she is not afraid of the water flooding her home.
Abdraham Sariha and Rashid Sofia are living with her grandmother, aunty, and uncle in Buipe. The water flooded their house twice due to the opening of the Bui Dam. Each time they packed their things and moved temporarily to her uncle's place. Then they would watch the water daily and wait for it to go back. At the moment they are able to live in their house, though the water now forms a small lake in front of their home. They've been told that the water is no good; it is dangerous and has killed a young boy who was electrocuted while trying to fish. They are afraid of living close to the water now. Sariha and Sofia are 12 and 13 years old. They both don't want to stay in Buipe. After finishing school, they would like to be a soldier and a journalist respectively.




Nana Kwabena Kunde is 83 years old and lives in the village called Kwaakuae. When the Akosombo Dam was built he was in his twenties and married with children. The construction of the dam did not affect his farmland directly, but many other farmers lost their land and were forced to move to higher ground. To compensate the ones who lost their homes the government bought pieces of land in Kwaakuae village and built small houses for them. Nana Kwabena Kunde has noted a change in his crops in the past years. The lake flooded a lot of Kete Krachi's forests, which changed the climate and led to less rainfall. The reduced rainfall results in fewer crops, which leaves his community with great uncertainty about the amount they will be able to harvest. He therefore does not wish for his children and grandchildren to go into farming, it's hard work that always depends on an unpredictable changing climate.
Nana Yaw Agie is a fisherman. He is 30 years old and from Senya Beraku. When he was 15 his uncle brought him to Kete Krachi to teach him how to fish. Then his uncle moved back to Senya Beraku while Nana decided to stay with his family in Kete Krachi. Depending on the fishing season he moves back and forth to Senya Beraku, where he sometimes stays up to one month. The amount he can fish is getting less in both places. What was once a good amount – 5 buckets of fish – is now much reduced to 2-3 buckets. During a bad season it is just half a bucket. The number of nets thrown out a day changed too: back then he only had to use 3 nets, now he is using 20 nets. He positions them in a line in the water to collect them the next day. Although he throws the nets far away from the shore there's never a day he does not catch plastic or rotten fish. Besides fishing, he is an actor producing films with Otiwood production. He does not wish his kids to go into fishing. He would like them to finish school and then go into something of their choice. He now has one child of the age of 5 years.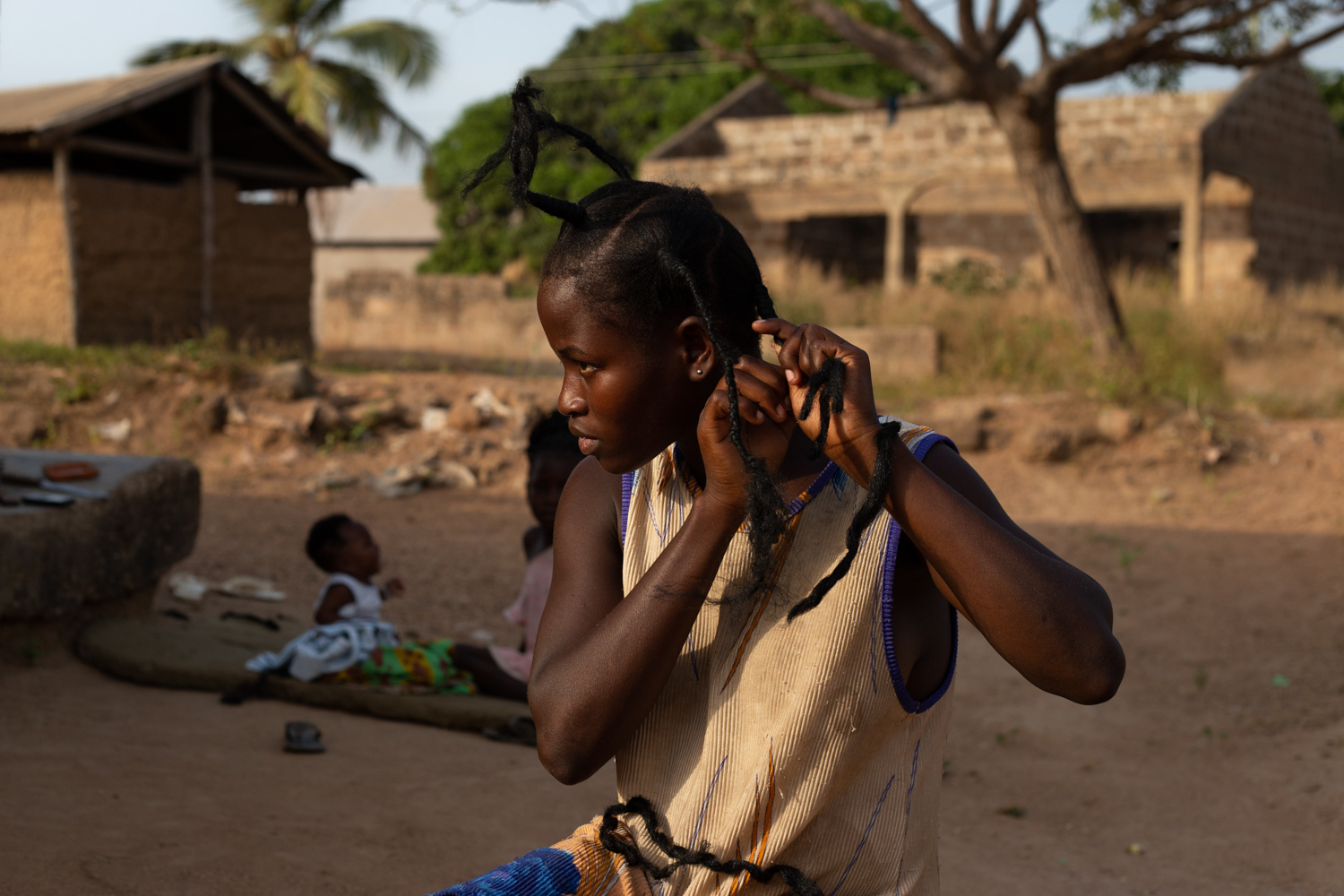 Hager is 18 years old and gave birth to her first child six months ago. She lives together with her mom, Linda Nemo, and her younger sister. They both live at the place which once belonged to her grandmother. Linda is 48 years old and a farmer. She wakes up 5 days a week at 3 am to get to the farm by 7 am. She's the only one working on the farm till 6 pm in the evening. She says sometimes she does not get enough crops for the work she puts in. On a "taboo" day where it's not good for farmers to go to their farms she helps in other households. Sundays are free, she goes to church and afterwards relaxes or does house chores.
About 20 years ago someone in her community discovered by chance that water comes out of the ground just behind their house. Since then, Linda has been able to fetch water from there. Before that she and her family were using water from the lake. When the lake water is abundant in the rainy season, or after the opening of the Bagri Dam, it collects trash, making it smelly and unsafe for them to use. The water from the discovered hole enables them, not only to have safer water, but a water source closer to their home. Almost all the community around her have been using this water since its discovery. During the rainy season they depend on the hole water or their pipe, which does not flow sometimes for months. In these times they will have to buy pure water for drinking.
Hawa`s parents are farmers. She lives with her mom, dad, and siblings. She's 18 years old and a passionate muslim. She stopped schooling and decided to learn bread-making. Her dad, besides being a farmer, is also a hunter. They mainly farm yam on the hilltop, but in the last few years they have also planted rice at the lake side. With the constant back and forth of the water level along the river, and with frequent disruptions of their rice paddies from birds and cows, they decided to stop farming at the lakeside. They now focus on their farming at the hilltop. Despite these difficulties others still choose to do rice farming at the lakeside.
Comparing the location of all the previously mentioned communities Salaga seems to be the odd one out. It is not located close enough to the river to be flooded, but it has been affected by the changing infrastructure of the area due to the dams. The rivers are becoming wider and therefore more difficult to cross. The bridge between Yechi and Old Makango does not exist anymore and the ferry connecting these two communities only goes once or maximum twice a day. The construction of the Buipe Bridge has now opened a new way to get from South to North, excluding Salaga. What once was a major trading centre in Ghana has now lost its importance. Salaga is not a trading centre anymore - people's occupations have shifted from trading to farming or something else.
Salima Ibrahim was born 1965, she grew up in Salaga. She sells food at the school close to her house. When she was younger, she sold bananas and peanuts. Her husband and children are no more, she now lives together with her granddaughter Aisha. The area she lives on was first just her father's farmland, with just a few people living around. Now, more people have built houses and left no farmland in the city centre. It is noticeable that the city is expanding and changing. Salimas granddaughter Aisha is 20 years old. After finishing Senior High, she wants to leave for Kumasi to follow her dream of becoming a professional footballer.
Daniel Koomson came from Winneba to Old Makango to continue his fishing business. He wanted to earn more money to build a new house and to afford for his children to go to school. He has seven children. When he came to Makango 15 years ago the fishing business was good, but this year fishing has become hard. He does not know the reason why the fish are becoming less. If he gets the information that fishermen catch more fish elsewhere, he will relocate with his family there. If any of his children wish to get into the fishing business, he would advise them to add another work to it to have another source of income. For the past five years his home has been affected by seasonal flooding, when this happens he moves to another place where the water has not yet reached.
Hajia Manuna has sold fish for the past two years now. She is 23 years old. Although she is from Yechi, she always goes to Old Makango on Wednesday, which is Makango´s market day. Mondays and Sundays she sells at the market in Yechi. When she started the fish business the prices were lower. The fishermen explain the increase of the price with the rising fuel prices. A bowl of fish that was sold for 20 Ghana cedis is now sold for 50 Ghana cedis. She doesn't get enough fish to buy anymore and the small amount she buys is very expensive.
Fati Abdul Mumuni lives in Yapei with one child, her other three children are working elsewhere. She is living with her sister Zelia Saata and her children. Fatis' husband is no more. She would like to go to the city to earn more money, but her mother is getting old, so she decided to stay and take care of her. They live close to the riverbanks of the White Volta. During the rainy season their farmland next to their house got flooded, but it doesn't enter the house. Both work as fishmongers. They buy their fish from the fishermen, smoke, and then sell them to the fish sellers at the toll booth. During the time between the rainy season and the dry season the water level makes it hard to catch enough fish. In February the water will dry up enough to create small dams. It's then harder for fish to escape and therefore easier to catch them. During harvesting season Fati and Zelia must be quick, they even call for help, so the fish won't get bad. When the Bagré Dam opens it worries them. The high volume of water takes all the fish away. It is then hard to sustain their livelihood.
Dramani Shaybu, "Bula", grew up in Yapei. He says farming and fishing are becoming more and more difficult. The construction of the Bagré Dam caused the White Volta to become wider and its flooding unpredictable. They usually farm on the riverbanks, but when the Bagré Dam is opened the water will take all their crops. Yapei gets notified one to two months before the opening. It might sound like a lot of time but it's too late for the farmers as they've already started planting. If they want to farm elsewhere, they need to use fertiliser which many of them cannot afford. Fishing has become challenging as well. Before the dam, the river had natural sand banks on which fishermen would stand and catch fish. But because of the increased width and water level this is not possible anymore. The population in Yapei is decreasing because more men and women are moving to other cities to work.
Young men of Yapei: Bawa Nuru "Nawas", Dauda Ridrone, Kamara Ibrahim Osman
During the holidays many men return to Yapei, back to the place where they grew up. Most of them work seasonally and have more than one job. All of them are part time fishermen when they are in Yapei, besides which they work as a construction worker, teacher, farmer, driver or other. The flooding of the river does not just cause the loss crops or fish. The people of Yapei are defecating on the riverbanks. When the flood comes it carries the faeces away. This might not affect Yapei but will affect another community downstream. Regardless of the issues Yapei is facing, the young men emphasise that "this is (their) community, (they) can't just run and leave" - (Bawa Nuru).
The History of Buipe
The current Buipe is located on the river banks of the Black Volta. It is part of the Gonja-Kingdom. The name of the Black Volta comes from the river's appearance: it's considered to be very deep and therefore black. In contrast to the White Volta, which from its appearance, looks white. A story tells that if you splash water from one river into the other it will "jump" back.
Buipe has moved several times. It was originally located at Mawule. History says that one day the earth underneath the city of Mawule opened up and took the people inside of her. Since then the remaining citizens who by chance weren't there when the incident happened hear their cries and voices of ghosts. Due to this reason they moved to what is now known as Old Buipe.
Now according to history and tradition, people don't return to Mawule on Fridays and Mondays because on these days they will have difficulties finding their way back home.
In 1953 a road which is now known as "the old road" was constructed connecting Accra with Bolga. The people moved once again from Old Buipe closer to the river, along the old road and settled in New Buipe. Moving there meant easier access to the road. Back then, the Buipe bridge was not yet constructed. Instead they used canoes, so called "Pontoon", to get to one side of the river to the other.
Years later the government constructed Buipe bridge and a new paved road parallel to the old road. This caused the people to move once again closer to the new road and closer to the bridge. This settlement is now the current Buipe.
The name of Buipe originates from the founder of the Gonja-Kingdom: Idenwura Jinapor. During his last attempt to conquer more lands he was shot. The wounds were severe and he passed away. His people tried to carry his body to his sister to fulfil his last wishes. By the time his body turned heavy they reached Buipe which was not yet named Buipe. Only after they buried his body did they name the community "Buipe". "Bee" meaning heavy referring to Idenwura Jinapors heavy dead body and "pe" meaning community.
Buipe is a busy town. The Buipe bridge makes it easy to cross the Volta, therefore many people prefer this route through Buipe to either go North or South of Ghana. Sundays and Mondays are market days, a lot of people arrive on Sunday noon to start their business which lasts till Monday 6 pm. Afterwards the market place gets really quiet again as if nothing had happened.
The Bui Dam has caused many floodings in Buipe. Not only the cattle market is flooded, one can see also much of the river banks flooded - leaving some houses up to their roof top in water, making it impossible for people to live there. Despite the unpredictable flooding people still live very close to the water.
The Queen Volta
The Queen Volta is a ferry transporting goods from Akosombo to Buipe and back. It arrived on Sunday afternoon on the river side next to the market place of Buipe. Sundays are known to be the first day of the two-days-market. The river side has been busy throughout the day because of sellers and buyers arriving and waiting for wooden boats carrying people and goods such as yam, goats, cows, motor bicycles and more.
There was a passenger ferry from Akosombo to Buipe, but currently it is not working. As part of our travels we wanted to take the ferry to Kete Krachi to view communities along the river and lake side. It was also important to us to see the confluence of the White and Black Volta. So we talked to the captain of the Queen Volta and were glad that he accepted to take us on his ferry, on the condition that we would buy our own food and water. As all beds were occupied by the crew, he offered to accommodate us underneath the shed. The ferry left on Thursday night at 10 pm. It is safer to leave Buipe at 10 pm to be able to get to the confluence by sun rise. Only then are the many sandbanks visible in the narrow passage.
The ferry left on time with the heavy sound of engines. We were very lucky when two of the crew members allowed us to sleep on the spare bunk beds in their room. At 5:30 am we witnessed the sunrise at the confluence of the Black and the White Volta. "At this crossing you normally see the White go underneath the Black Volta River because it's stronger," Captain Nat explained to us while checking the radar. He further explained that at this moment the river is at its peak, right after the rainy season. As Harmattan progresses the difference in the water´s colours will be more visible.
After the passage we experienced the river widening. The partially flooded communities we had seen earlier were now at a great distance, and the plastic gallons used by fishermen for their nets were fewer. We were surprised, at one point, to see what appeared to be a dead forest in the middle of the lake, leaving us wondering what was there before. After asking Captain Nat again, he explained to us that these dead trees are the only things left to remind us that this area was a forest before getting flooded. We continued seeing more of these dead trees sometimes in a great number sometimes it was just one.
After 10 more hours, 18 hours for us being on moving ground, we reached Yechi at 4 pm. The crew unloaded and loaded more goods before continuing to Kete Krachi. Yechi lies opposite Old Makango, before the Akosombo Dam was built these two communities were connected by a bridge. Today, to go from one side to the other one has to take a ferry or take the road from Yechi all the way up to Tamale crossing Salaga to make it to Old Makango. As the sun started to set, the lines between water and sky blurred leaving a velvet blue endless space.
After joining some of the crew members in the kitchen to watch a movie, we went to bed early as we would be arriving at Kete Krachi the next morning at 6 am. For someone not used to the ferry the night seemed rocky, for the crew members it was a routine. The engine stopped and started multiple times, due to the entanglement of plastic gallons in the propellor. The ferry also stopped at another small community called Hausa Kopei to load even more goods and to pick up another passenger.
Early in the morning at 5 am we then started to see Kete Krachi´s lights shining in the distance as the sun slowly but steadily rose. We made it again on time. The color of the water had changed into a more blueish color, showing the mixture of the Black and White Volta.
In Kete Krachi the ferry will reside for another 3 to 4 hours loading and unloading once again new goods before leaving to its final destination: Akosombo.
The History of Kete Krachi
Kete Krachi as we know it today has a long history. Once there were 52 different communities located south of today´s settlement. There was a river flowing through Kete Krachi and the area had a lot of forest. The name originates in a dance "Kete" and in the word "3ka akye" which means debt. The people were once in debt to another town which had helped them fight another community.
With the construction of the Akosombo Dam in 1961-63 Kete Krachi got flooded and the people forced to move. Not only did they lose their homes, but also their fertile farmland and the precious forest that helped to provide a climate favouring their farming. The people in Kete Krachi are known to be farmers and only used fishing for their own needs. Now the indigenes don't fish anymore. With the development of the lake new settlers arrived in Kete Krachi and they are now the ones who use fishing as another source of their income. Kete Krachi still consists of 52 scattered communities, located at various places.
The History of Salaga and Old Makango
Salaga is an ancient town and has long been known for being the trading centre of the region. During the16th century many people travelled to Salaga from each direction with their wares. They travelled on horse backs, on camels or walked a great distance. They exchanged cattle, camels, and farm products. It was only in 1800 that the slave market was introduced in Salaga.
The town is shaped by many different people coming and going. Till today Salaga consists of different people, including: the Hausa, the Fulani, Ashanti, Muslims, Christians and many more. But despite their tribal and religious differences people get along.
Salaga´s history as a trading-centre is deeply embedded in the design of the city. Four main streets head in each direction: North, South, East and West. Along the main roads houses spread across a large area with generous space between buildings. Closer to the city centre lots of houses seem to be abandoned. These central houses are partially destroyed, while those in the outer space are newer and numerous.
Salaga has changed severely in the past years. Earlier, the quickest way going from South Ghana, Ivory Coast, Togo or Benin to Northern Ghana, Burkina Faso or even up to Mali used to go through Salaga. But not anymore, the rivers became wider making it harder to cross. The bridge between Yechi and Makango is no more and the construction of the Buipe bridge makes it easier to use a different route up to the North which is leaving Salaga out, resulting in less people passing through Salaga.
Salaga´s market is changing too; reducing in size and importance because other smaller communities are able to have a market of their own now. While Salaga´s market rotates every 6 days, smaller surrounding communities have a fixed market day.
One of them is Old Makango. It is a small community in the Salaga district located on the riverbanks of the Black Volta. Wednesday is Makango´s market day. On this day every surrounding community such as Yeji, Salaga and Kpandai come to Makango´s riverside to buy and sell their goods. The construction of the Akosombo dam in 1963 had a huge impact on Old Makango. The Black Volta widened and flooded all Makango. Prior to the construction of the dam the government built New Makango on the high lands and provided this newly formed community with light, farmland, and a school. Nowadays the water has moved back, and despite the risk of the water flooding the area once again most people have followed. They resettled in the Old Makango for easier access to the lake and market. Only a few people decided to stay in New Makango which is 3 km away from the riverside. There, many houses are abounded, and some are slowly falling apart.
A day in Yapei
Yapei is a town located at the White Volta. It is a town stretching along one main road and ending at the bridge which then leads to Buipe. Back in 1970, Yapei had a port where the ferry, the Queen Volta delivered and picked goods. The port closed only 10 years later, in 1980 because from March till May the water levels recedes such that the ferry is exposed to sandbanks - making it impossible to navigate. The port has been relocated to Buipe as the Black Volta contained enough water throughout the year. Without the port, Yapei has lost its importance.
Along the main street there are only a few shops, and the toll booth is the only place where trucks stop before continuing their journey towards Buipe. The toll booth keeps Yapei relevant, most business happens there. Apart from the main road the small community seems deserted. At the riverbanks a few women and children are washing their clothes, further down the riverbanks are filled with the dried-up human faeces and just a few steps away a young boy fills up his water bottle. He and his friend are thirsty after playing football all morning. They grew up knowing that it is ok that the water is coloured light brown. Walking closer towards the village you can hear distant chatter and the children continuing their football match. In the middle of the village there is an open area. An elderly woman slowly crosses what could have been Yapei´s marketplace, her white scarf blowing in the wind. One container shop is open, its blue colour already fading. A group of young men sits in the shade. Next to them is the mosque. The sound of the call of prayer breaks through the silence of the place. The young men all disappear inside the mosque to pray. After half an hour they reappear and sit down once again under the shade of a summer hut to continue their discussion. The community of Yapei is facing difficulties. Many people struggle sustaining their livelihood with fishing and farming. The Youth moves to other cities to look for jobs and only return for holidays.
Here, now, this struggle will be passed on to the younger generations. Although the people we met are well aware of their problems, they don´t seem to see the possibility to actually be the change to their own environment.
Conclusion
"When water cries" is a journey. We started in Buipe, then took the ferry to Kete Krachi and from there we continued to Salaga, Old Makango and Yapei. Although this journey seems to be over, for us it isn´t. We realized that all these communities are struggling to sustain their livelihood. The people we met are exposed to extreme changes in their environment. For some of them, their only way to cope with these changes is to adapt to their current situation. Others know of their problems but don´t see themselves to have the control of changing their own environment for the better. At this point it is easy to point fingers, blaming the government, blaming the communities, or even blaming nature. But this won´t be the solution because we are missing the fact that even the smallest changes can add up to have a great impact on the issue they are facing.
"When water cries" does not just tell the story of the Black and White Volta in Ghana but rather illustrates that waterbodies all around the globe are struggling.
Water is life and we need it to survive. It allows us to benefit from it by producing electricity, using it for irrigation, transporting goods, rearing aquatic animals which we can use as a source of income, and many more benefits. But somehow it has come to a point where we humans have taken all this for granted, and furthermore have been mistreating water by polluting it with our trash, our faeces, and the chemicals we use.
For the past years until today we are driven by the greed of benefiting from and controlling nature. We have been exploiting nature, disregarding any consequences and as of now we are running away from our responsibility. We have disconnected ourselves from nature. We have forgotten that we are part of it.
It is no wonder that we, humans force water to flood our homes, take away our fertile land, kill our fish and poison us. In the end we ourselves are threatening our own livelihood. All this is a sign that we have disrupted the fragile balance between us and nature. Regaining this balance means regaining our best chance of survival and that involves everyone. If everyone can change at least a little, combined it will change the world.
"When water cries" is not only a story about water being hurt. It is about us not treating water fairly, it is about us not respecting water and it is about us losing our best chance to preserve our very own. Water is our mirror; it reflects whatever it is shown. This project is to remind ourselves that if we harm water, we harm ourselves. It is a reminder, that it is in our best interest to start listening to water, because then we would know that water can no longer bear all these pains and that our chances of survival are shrinking. If we start listening to water, we will hear it cry for us because it knows what is coming.


Artist Presentation


FURTHER INFORMATION:
The Bui dam is located in Ghana at the Black Volta close to the boarder of Côte d'Ivoire. The construction took 4 years starting in 2009 and ended with the official opening in 2013. It is used to produce electricity.
The Bagre Dam is located in Burkina Faso. It is a multipurpose dam used for irrigation and to create electricity. To prevent the destruction of the dam it is usually opened in August or September. Only 72 hours after the opening of the dam the water reaches the White Volta and causes flooding of the area. Before the opening Ghanaian authorities will be notified to warn the communities in advance.
https://en.wikipedia.org/wiki/Bui_Dam - date of access 27.12.22
https://citinewsroom.com/2022/09/burkina-faso-authorities-begin-spillage... - date of access 26.12.22
https://www.pietrangeli.com/dam-bagre-earthfill-dam-burkina-faso-africa - date of access 26.12.22
Fibi Afloe
Fibi Afloe is a documentary photographer based in Nima - Accra, Ghana. In her photography practice she documents everyday life. It is important to her to get in touch with the people to truly understand their way of living and – linking it to her own personal story. Her work does not only include street- and everyday life but also intimate portraiture. Recurring themes in her work are gender, climate change and culture. Currently she is a Young Talent at Nuku Studio, a Centre for Photographic Research and Practice in Tamale, Ghana.
Amelie Koerbs
Amelie Koerbs is a documentary and portrait photographer based in Berlin. She shoots analog black and white as well as digital. Amelie is curious about the stories of people, their interpersonal relationships and their relationship to landscape and nature. She likes to listen, take the time, and transform these stories she gets to know into pictures which are rather simple than overcrowded with details. Currently she is a Young Talent at Nuku Studio, a Centre for Photographic Research and Practice in Tamale, Ghana.